WE WILL HELP YOU MAKE THE BEST PURCHASE
At PROCECO, we work closely with you to fully understand your needs and then develop a solution that effectively addresses them, while minimizing your expenses and cutting down on lead times.

EQUIPMENT VALIDATION
Our advanced process laboratory is equipped with a clean room and a selection of machines that allow us to perform a full array of processes.

ENGINEERING AND DESIGN SUPPORT
We start by evaluating your parts and process objectives, which we then turn into a cost-effective process design. When necessary, we recreate your process in our state-of-the-art test laboratory to assess its performance in relation to your expected results. Doing so also allows us to identify potential issues and propose alternative solutions.

EQUIPMENT INSTALLATION
Depending on your needs, we can either let you handle the equipment installation process or we can assume full responsibility in the form of a turnkey project. If you are comfortable with handling the installation yourself, our technicians will guide your personnel through the process to ensure the equipment is set up to deliver the most optimal performance.

BUDGETING AND PRICING
Once we receive a request for quotation, we identify your exact needs and customize our technology to address them. To ensure our proposed price aligns with your budgetary expectations, we follow these key steps:
Gather as much information as possible via our Applications Data Questionnaire and other communications with the customer.
Review the information provided.
Offer the most cost-effective solution to meet your specification, using either a standard or custom configuration.

LEAD TIMES
Though our lead times vary by equipment, our flexibility allows us to meet any timeline requirements necessary. We realize that for many industrial facilities, quick turnarounds are a necessity, which is why we rely on pre-engineered processes to ensure short lead time.

ONGOING SUPPORT
In case our equipment has suddenly stopped meeting your expectations, our customer service department along with our engineering personnel are available to help you troubleshoot, and if necessary we will dispatch a technician to get you up and running again. We also provide preventive maintenance for your equipment, with customized schedules to fit your objectives and needs.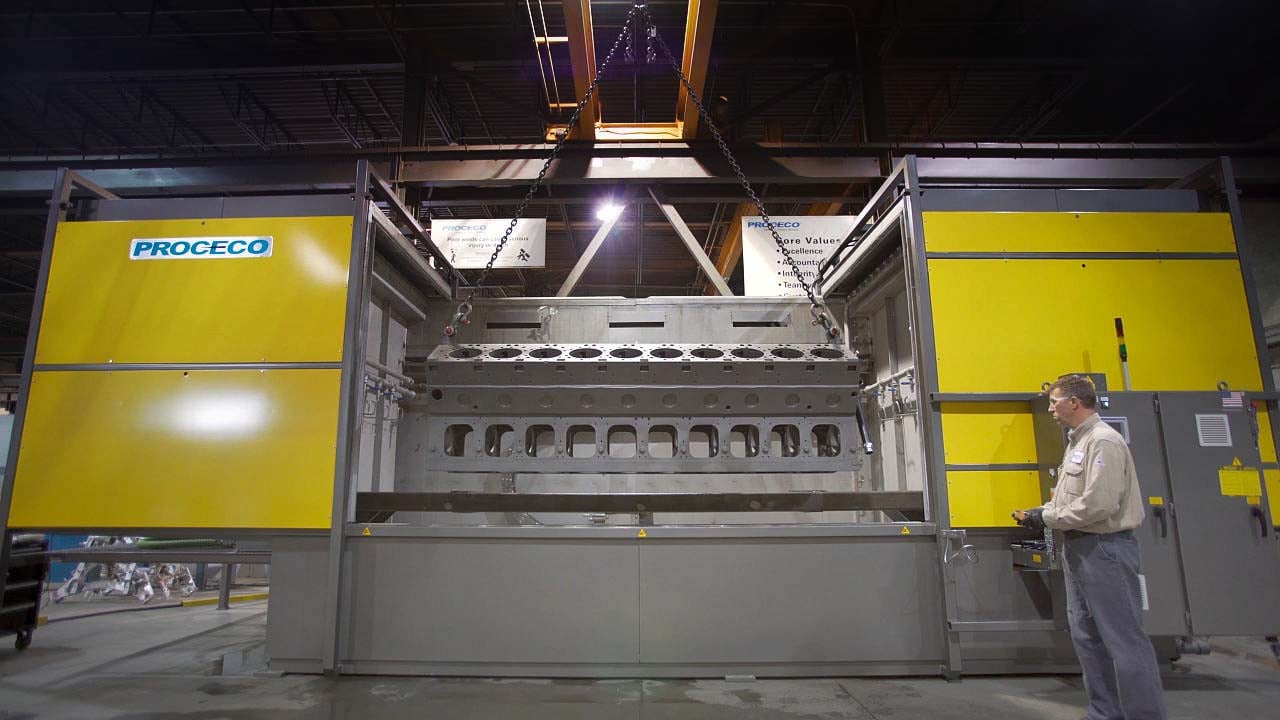 EXAMPLE LEAD TIME BY EQUIPMENT:
TYPHOON®-HD Heavy-Duty Turntable Washer: 12-14 weeks
TYPHOON® MB Modular Belt Conveyor Washer: 14-16 weeks
Multistage Automated Surface Treatment System: 20-30 weeks
Éco-Smart® Mechanical Vapor Recompression Evaporator: 16-18 weeks
Contact a Parts Cleaning Expert
PROCECO develops aqueous cleaning systems that go beyond cleaning, by seamlessly integrating a wide range of processes and features that dramatically improve your productivity and profitability.