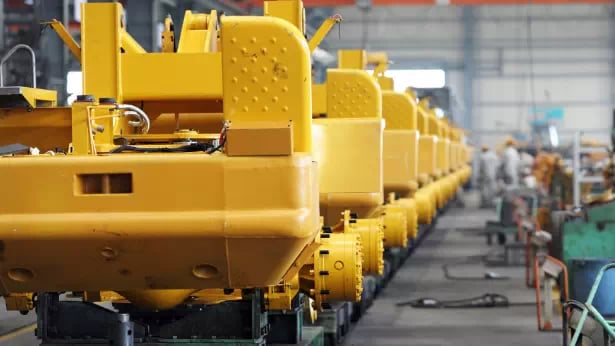 PROCECO has served more than 300 customers and integrated more than 1500 systems in the following industries: Tier 1 & 2 off-highway equipment component manufacturers, dealer maintenance centers, rebuilding depots, and OEMs around the world.
Our experience allows us to design flexible systems ensuring that parts are properly cleaned prior to subsequent operations or for final assembly.
Our selection of parts washers includes both batch and continuous cleaning systems suitable for meeting most part cleanliness specifications, production needs, and part sizes. PROCECO offers free-standing equipment for cleaning components as part of a manufacturing cell, as well as custom cleaning systems that integrate with your total manufacturing or automation lines.
Heavy Machinery and General Manufacturing Components
PROCECO offers a complete range of parts washers specifically designed for general manufacturing components such as off-road engine and transmissions, hydraulic valve bodies, gears and bearings, pumps, compressors, turbines, electric motors and generators, fasteners, and many more.
Properly Cleaned Parts Prior to Subsequent Operations or For Final Assembly
PROCECO's cross industry know-how can help you increase productivity and product quality.
Heavy-Duty Parts Washers for General Manufacturing
Since 1975, dealer maintenance centers, rebuilding depots, Tier 1 & 2 off-highway equipment component manufacturers and OEMs around the world have relied on PROCECO cleaning systems to increase their productivity, profitability, and product quality. In the global heavy machinery industry, we have engineered and supplied over 1,000 parts washers and cleaning systems, each one far exceeding conventional design standards.
Heavy Equipment and General Manufacturing Applications
Heavy Equipment and Metal Parts Cleaning

Surface Treatment for Metal Parts
Heavy Equipment and Metal Parts Cleaning

PROCECO's industrial parts washers are designed for a wide range of parts cleaning operations, from precision metalworking processes to remanufacturing operations. Our Industrial parts washers use recirculating hot water and environmentally safe detergents to provide the cleaning action required for your specific application.

We will help you select the most effective cleaning equipment configurations and chemistries to meet your requirements, from simply removing metal working fluids, metal chips, and abrasives — to more challenging applications such as removing grease, grime, baked-on carbon deposits, and even paint.

Surface Treatment for Metal Parts

In addition to cleaning and rinsing, PROCECO's surface treatment equipment allows the application of additional processes to a part's surface to improve its aesthetic qualities or boost its resistance to rust and wear.
Our Trusted Partners in General Manufacturing Industry












CONTACT A SOLUTION EXPERT
PROCECO develops aqueous cleaning systems that go beyond cleaning, by seamlessly integrating a wide range of processes and features that dramatically improve your productivity and profitability.