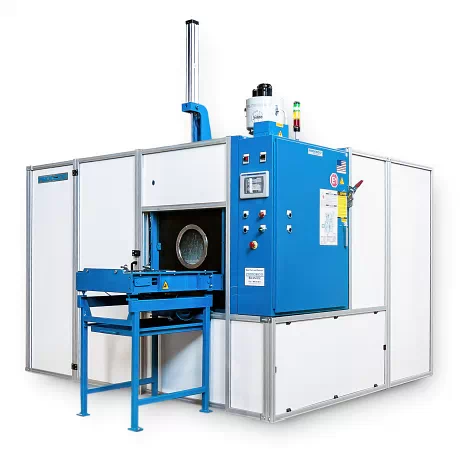 Spray-Immersion Tunnel Parts Washer - TYPHOON®-TSI
Key benefits
Ideal for precision cleaning of complex parts
High turbulation created by power spray and immersion
Ideal for tough-to-clean parts with complex geometries and intricate bores
Vacuum drying option available
PLC controlled
Overview
The TYPHOON®-TSI washer is PROCECO's response to the need for precision cleaning and vacuum drying of complex workpieces (or baskets) in a single footprint.
Workpieces are fixtured on a pallet with single-point loading/unloading designed to be integrated into feed conveyors.

Engineered to meet the tightest cleanliness requirement on the market, the TSI combines the powerful action of spray washing to the immersion action, allowing the solution to reach all surfaces and remove trapped contaminants, even for parts with the most complex geometry.

Additionally, the TYPHOON®-TSI design allows for vacuum drying directly in the washing chamber for complete process versatility.
Read more
Specification sheets

Download resources

Videos
CONTACT A SOLUTION EXPERT
PROCECO develops aqueous cleaning systems that go beyond cleaning, by seamlessly integrating a wide range of processes and features that dramatically improve your productivity and profitability.