All pre-owned equipment offered by PROCECO:
Is meticulously inspected by PROCECO technicians

Is clean and in good condition

Can be purchased as-is

Can be adapted to meet your needs

Includes operation and maintenance user documentation

Is supported by PROCECO's Customer Service department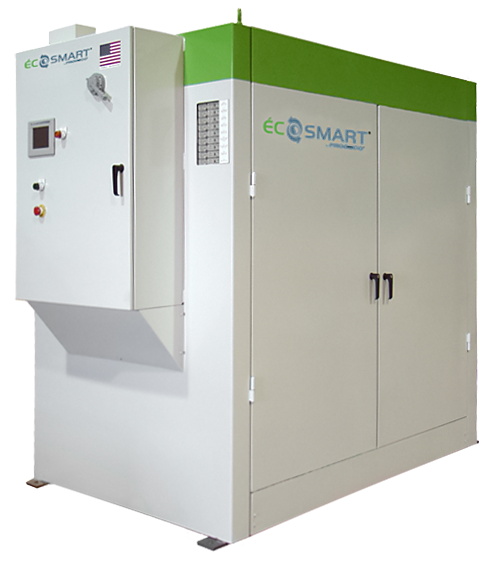 ÉCO-SMART® ES-1500
ÉCO-SMART® MECHANICAL VAPOR-RECOMPRESSION (MVR) EVAPORATORS
The PROCECO Éco-Smart® mechanical vapor-recompression evaporator system is a low-energy evaporation method that generates a high-quality distillate ready to be re-used. The Éco-Smart® MVR does not use an electric, gas or steam heat source to generate the distillate; this makes it a more environmentally friendly and cost-effective alternative to conventional wastewater concentration technologies.

PROCECO Éco-Smart® MVR evaporators are at their best when evaporating large quantities of dilute solutions, such as the rinse water that is common to surface treatment, aqueous parts washing, liquid penetrant inspection or die casting. In most cases, the distillate meets or exceeds process water purity requirements and can be re-used without further treatment.

By adding an Éco-Smart® MVR to your cleaning process, you can recycle up to 98% of your industrial process water and significantly reduce your wastewater transportation and disposal costs, while also improving your process quality. By routing your cleaning solution to an Éco-Smart®, you create a closed loop – extracting dissolved contaminants and replenishing your solution with clean, recycled water.
EXCLUSIVE ÉCO-SMART®
FEATURES
Efficient heat recovery, allowing for a very low specific energy (see performance).
Effective natural circulation assures efficient wastewater concentration.
With exception to the compressor, the equipment uses no additional pumps and relies strictly on natural circulation created by the vacuum distillation process.
A multi-stage cyclone separator purifies the water vapor to produce a high quality distillate and prevents mineral scaling of the compressor internals.
The programmable logic controller (PLC) provides versatility; the unit can be integrated into an existing system or operated independently.
Fully automatic Allen Bradley PLC control system for unmanned operation.
The process control system monitors varying operating parameters and compensates to ensure reliable operation.
The vertical heat exchanger arrangement ensures low maintenance costs by allowing particles to settle in the concentrate tank rather than the heat transfer surfaces.
The distillate collection tank features a cross flow heat exchanger to pre-heat incoming wastewater.
Automatic foam detection with PLC controlled anti-foam dosing prevents foam build-up and eventual system malfunction.
The system is housed in an acoustically and thermally insulated enclosure, with detachable panels, providing spacious and rapid maintenance access.
The system is equipped with dry contacts for connection to customer's level controls; wastewater, distillate output, and concentrate output.
Year of Construction: 2016
Capacity (approximately) 1500 gpd
Evaporation temperature 188 °F
Distilled water outflow temperature 130-150 °F
Wastewater feed maximum 20 °C
Startup time between concentration cycles 30-45 min
Minimum wastewater pH 7
Compressor motor 30 hp (7.5 kW)
Compressed air consumption (peak demand) 10 scfm
Compressed air consumption (effective) < 5 scfm
Sound level in 1 m distance (approx.) 80 to 85 dBa
Specific energy consumption 0.24 kW/gal
Effective power consumption 18 kW
Weight 4,000 lbs
Dimensions 110"L x 60"W x 110"H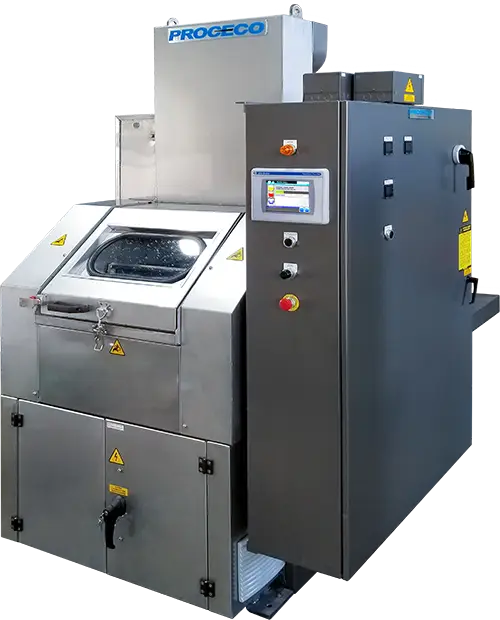 TYPHOON-SI®
The TYPHOON®-SI is a compact, ergonomically-designed parts washer, ideal for precision cleaning of machined components. The TYPHOON®-SI parts washer installs easily and conveniently into a manufacturing cell and can handle a wide variety of complex, small- or medium-size parts using standard Kaydon baskets or custom-engineered PROCECO holding fixtures.

The TYPHOON®-SI parts washer features fully recirculated, aqueous immersion wash and rinse stages. At the beginning of every wet-process stage, V-jet spray nozzles power spray the rotating basket fixture while also filling the immersion tank. Basket rotation during immersion and power-spraying ensures precision cleaning and complete removal of contamination. Following all wet-process stages, the nozzles power spray the parts without immersion, thereby ensuring that the part surfaces are not re-contaminated.
KEY BENEFITS
Ideal for tough-to-clean parts with complex geometries and intricate bores
Fully recirculating process: each stage includes a dedicated tank and process pump
High turbulation created by power spray and immersion
Compact / ergonomic design with all services at the rear of the machine
Multiple programs for different parts and cleaning processes
PLC controlled
Power spray, immersion, wash and rinse cycle for exceptional cleaning results
One-piece, polished stainless-steel 304 construction for chemical resistance and state-of-the-art appearance
Ergonomic design Improves productivity by reducing strain on operators
High-pressure regenerative blow-off dries parts thoroughly
Minimal cabinet wetted surface area reduces cross contamination of cleaning solution
Chip basket accessible through hinged covers filters solution before it returns to tank
Service connections and equipment located at rear, perfect for lean manufacturing cells
Programmable logic controller with touchscreen HMI allows you to set multiple programs for different parts and cleaning processes
Year of Construction: 2018
Approx. shipping weight: 2,500 lbs.
Machine dimensions: 54" W x 82" L x 75" H
Cleaning envelope: 18"diameter x 18" L
Standard baskets: 2 included
Immersion capacity: 22 US gal
Max. solution operating temp: 180℉ (80℃) maximum
Wash and rinse stage pump capacity: 45 USgal/min @ 35 psi, 3 hp – 3600 rpm
Wash and rinse stage solution tank capacity: 75 USgal
Wash and rinse stage heating capacity: 24 kW
High-impact blow-off stage blower capacity: 165 scfm @ 70" w.c.
High-impact blow-off stage blower motor: 4.6 hp – 3600 rpm
Required compressed air supply: 5 scfm @ 80 -120 psi
Required power supply: 575V / 3-phase / 60 Hz
CONTACT A SOLUTION EXPERT
PROCECO develops aqueous cleaning systems that go beyond cleaning, by seamlessly integrating a wide range of processes and features that dramatically improve your productivity and profitability.