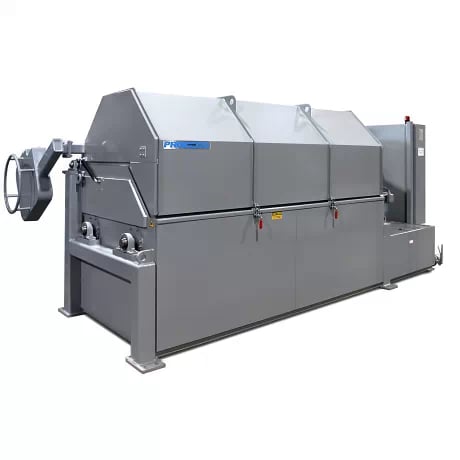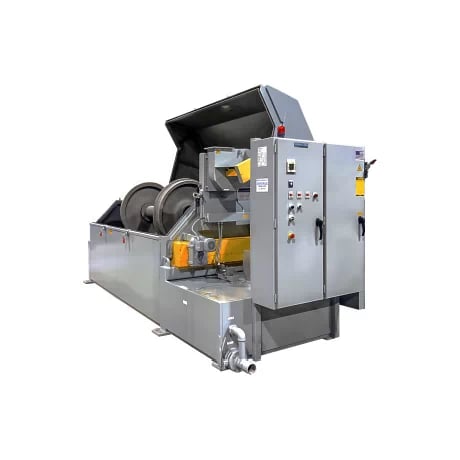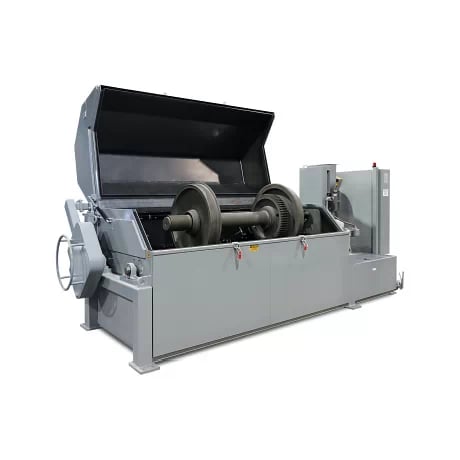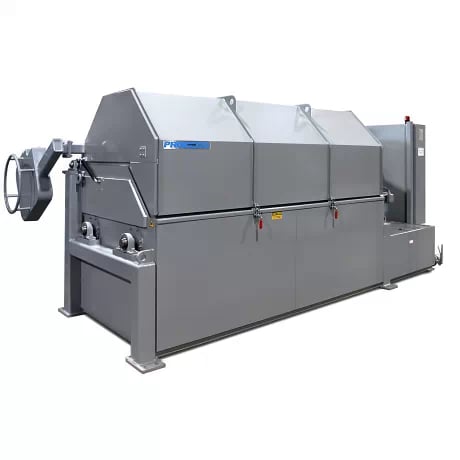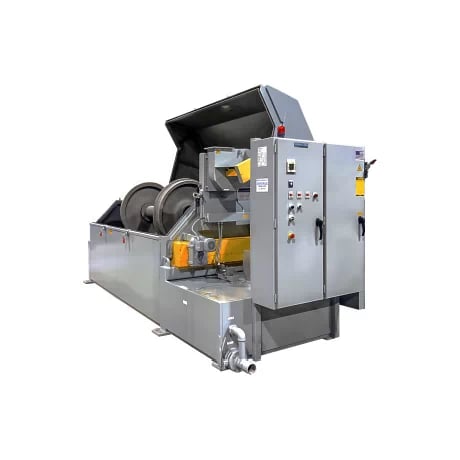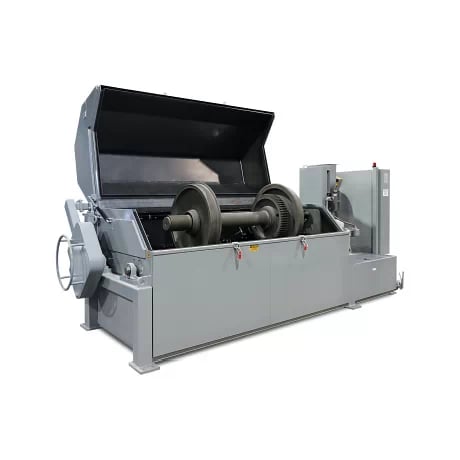 Crane-Fed Wheelset Washer
Key benefits
Effectively removes grease and road dirt from the locomotive and car wheelsets
Low loading height for overhead crane access
Ergonomic manual counterbalanced lid for ease of operation
Rotates wheelset to clean all surfaces
Configurable for all sizes and gauges of wheelsets
Optional sludge removal conveyor prolongs solution life
Overview
The PROCECO wheelset washer is a crane-fed spray washer designed to clean locomotive or car wheelsets.
PROCECO's unique heavy-duty design is intended to remove tenacious soils such as bituminous gear lubricant, grease, and road dirt. Wheelsets are power spray cleaned using a low-concentration alkaline detergent solution (1 - 3%) at 160-180°F (71-82°C). A final freshwater rinse with rust inhibitor removes detergent residues and is followed by a flash drying sequence. Typical cycle times range from 10 - 15 minutes, allowing processing up to four wheelsets per hour.
Crane-fed, Single Wheelset/Load Cleaning Systems for low-volume production: Manually open clam-shell lid, place wheelset with crane onto rotating rollers inside cleaning chamber and start programmable multi-stage cleaning process. Unload wheelset with crane.
Production rate: 2-3 wheelsets per hour.
Cleaning Process: Automatic cleaning process consists of recirculated, hot, water-based cleaning solution with a low percentage of alkaline detergent / optional hot-water rinse with optional rust inhibitor / optional blow-off drying. All machines include automatic sludge removal and oil/grease skimming systems, thereby reducing detergent consumption and extending intervals between tank clean-outs.

Our automatic wheelset cleaning systems meet your cleanliness specifications, adapt to your production environment, and permit reconditioning and MRO according to AAR (Association of American Railroads) standards and guidelines.
Read more
CONTACT A SOLUTION EXPERT
PROCECO develops aqueous cleaning systems that go beyond cleaning, by seamlessly integrating a wide range of processes and features that dramatically improve your productivity and profitability.