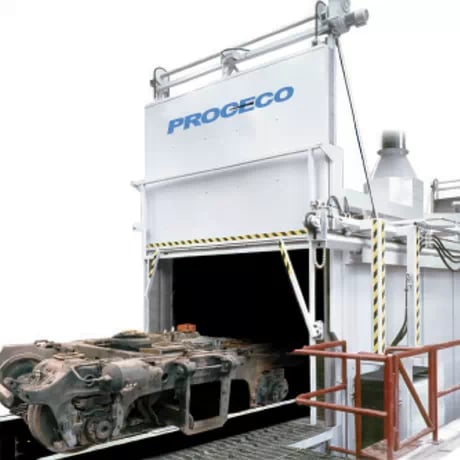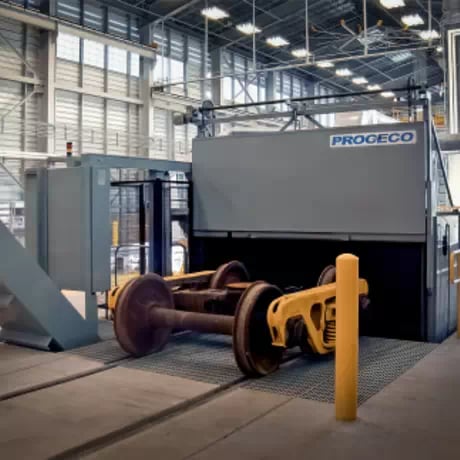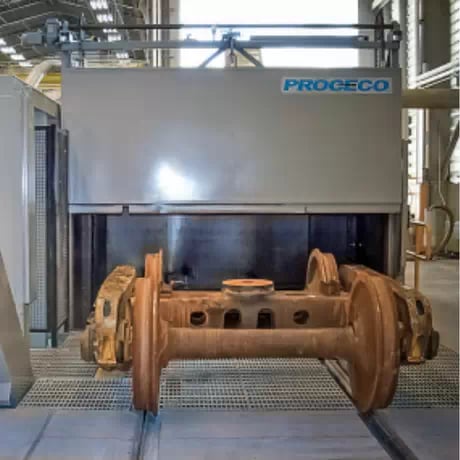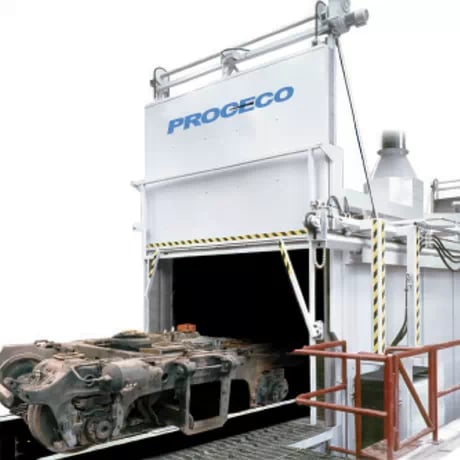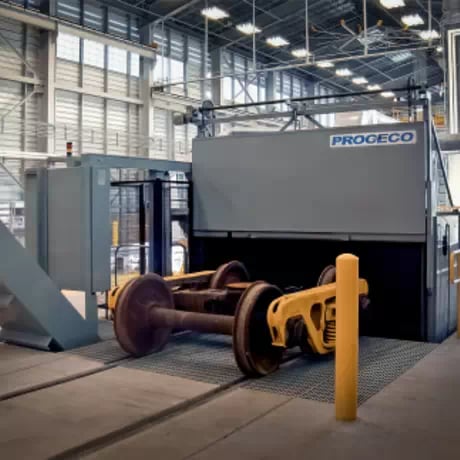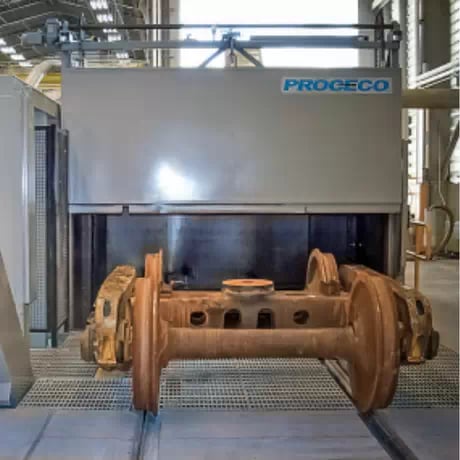 Rail-Fed Bogie Washer
Key benefits
Ideal for high production — eight bogies per eight-hour shift
Outstanding removal of grease, dust, and road dirt
PROCECO's exclusive reciprocating spray manifold delivers high flow to all workpiece surfaces
Trolley available to clean bare bogies and other components
Integrated sludge removal conveyor prolongs solution life
Fully automatic sequence
Overview
Rail-Fed Bogie washing plants are aqueous degreasing systems specifically designed to automatically wash and rinse transit car and locomotive bogies/trucks (without traction motors) moving on their own wheels, in various states of disassembly.
These cleaning systems use PROCECO's exclusive spray manifold design, which surrounds the truck/bogie on all four sides and travels back and forth over the entire length of the workpiece to ensure effective cleaning of all surfaces. Depending on the degree of contamination of parts, the system can clean up to eight trucks/bogies per eight -hour shift. Using an optional parts trolley, PROCECO Bogie washers can also clean truck/bogie frames without wheels, as well as various other components. Other options are available for enhanced performance and increased production.

Cleaning Process: In all PROCECO Bogie Washer designs, reciprocating spray manifolds travel the length of the process cabinet while spraying the stationary workpiece from all directions with hot, high-pressure, high pump volume, water-based cleaning solution, containing a low concentration of heavy-duty alkaline detergent. Optional water rinses with or without rust inhibition are available, as well as compressed air blow-off stages.

Production rate: 1 bogie per hour or 1 trolley with parts per hour.

Our automatic parts cleaning systems permit non-destructive inspection, reconditioning, and MRO according to AAR (Association of American Railroads) standards and guidelines.
Read more
Specification sheets

Download resources

Videos
CONTACT A SOLUTION EXPERT
PROCECO develops aqueous cleaning systems that go beyond cleaning, by seamlessly integrating a wide range of processes and features that dramatically improve your productivity and profitability.