Throughout the service life of any equipment, certain components are subject to normal wear and require replacement.
Please consult the REPLACEMENT PARTS section of your PROCECO Operation, Maintenance and Parts Manual. The parts in that section are categorized according to their usage on the equipment and are listed with PROCECO part numbers that facilitate the search.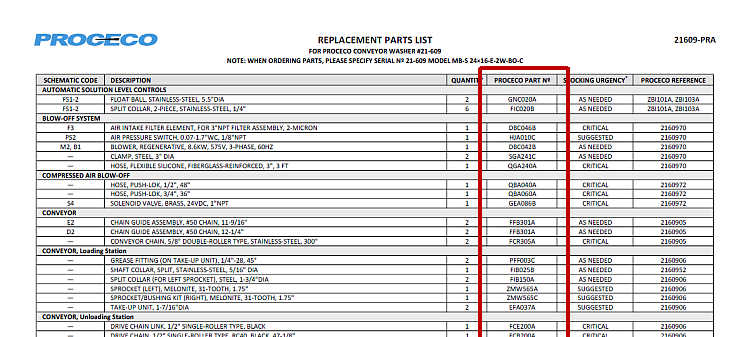 If you are not able to identify the part using the documentation you have at hand, we are still here to help you. Click the request quotation button, fill out the form and, if available, add a photo of the part you wish to replace, and be sure to receive a reply from us within one business day!
Request Replacement Parts Quotation
WARRANTY
PROCECO warrants each machine manufactured to be free from defects in materials, parts and workmanship under normal use and service. Within one (1) year after the shipping date, PROCECO commits to providing prompt assistance to the customer on any issue, related to the machine's functionality and operation.
Should an equipment malfunction occur, PROCECO shall:
Within one business day, provide remote troubleshooting at no cost to the customer.
Examine and possibly repair the defective component, returned by the customer.
Help the customer avoid downtime by shipping replacement components within the shortest time delay possible at PROCECO's cost.
If necessary, dispatch a technician on site and make all travel arrangements at PROCECO's cost.
The customer shall:
Promptly return the damaged component for PROCECO's investigation.
Should the examination prove the failure to be due to improper operation or maintenance by the customer, the customer shall compensate PROCECO the full cost for repair or replacement of the component shipped.
CONTACT A SOLUTION EXPERT
PROCECO develops aqueous cleaning systems that go beyond cleaning, by seamlessly integrating a wide range of processes and features that dramatically improve your productivity and profitability.