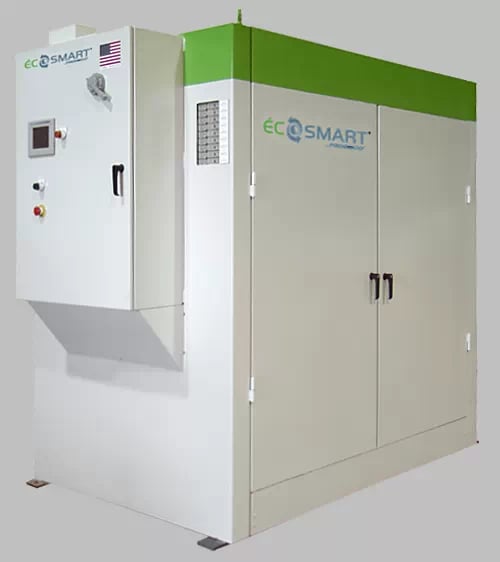 ÉCO-SMART® MECHANICAL VAPOR-RECOMPRESSION (MVR) EVAPORATORS
A ZERO-DISCHARGE WASTEWATER RECLAMATION SYSTEM
The PROCECO Éco-Smart® mechanical vapor-recompression evaporator system is a low-energy evaporation method that generates a high-quality distillate ready to be re-used. The Éco-Smart® MVR does not use an electric, gas or steam heat source to generate the distillate; this makes it a more environmentally friendly and cost-effective alternative to conventional wastewater concentration technologies.
PROCECO Éco-Smart® MVR evaporators are at their best when evaporating large quantities of dilute solutions, such as the rinse water that is common to surface treatment, aqueous parts washing, liquid penetrant inspection or die casting. In most cases, the distillate meets or exceeds process water purity requirements and can be re-used without further treatment.
By adding an Éco-Smart® MVR to your cleaning process, you can recycle up to 98% of your industrial process water and significantly reduce your wastewater transportation and disposal costs, while also improving your process quality. By routing your cleaning solution to an Éco-Smart®, you create a closed loop – extracting dissolved contaminants and replenishing your solution with clean, recycled water.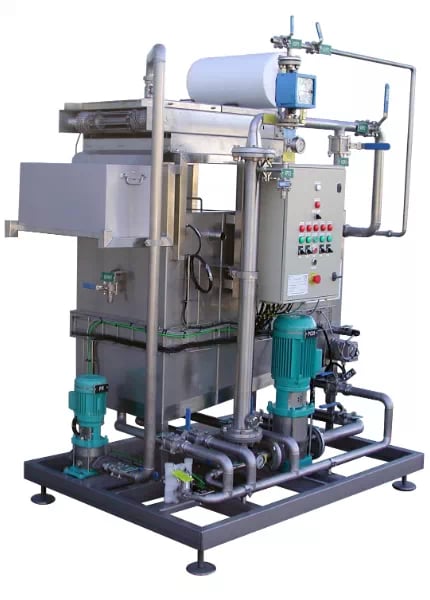 ULTRAFILTRATION (UF) SYSTEMS FOR WASTEWATER TREATMENT AND RECYCLING
EXTEND YOUR CLEANING SOLUTION BATH LIFE BY STRIPPING THE OILS FROM IT
Over time, aqueous parts washer cleaning baths build-up with oil and sludge, exhausting the cleaning performance of the detergent. Quite often the solution to the problem is, dump and recharge. With a PROCECO Ultrafiltration system, cleaning bath life can be extended six-fold, and detergent costs can be cut in half. Our fully integrated Ultrafiltration (UF) systems are designed to operate unattended, and require little maintenance.
PROCECO offers a solution that will reduce waste, cut costs, and improve cleaning quality. Our ultrafiltration systems are designed to outperform other technologies by offering a lower overall life-cycle cost. Anyone who has any experience with membrane filtration knows that the true cost associated with the technology is not the upfront dollar value, but the maintenance and operation costs that follow.
CONTACT A SOLUTION EXPERT
PROCECO develops aqueous cleaning systems that go beyond cleaning, by seamlessly integrating a wide range of processes and features that dramatically improve your productivity and profitability.