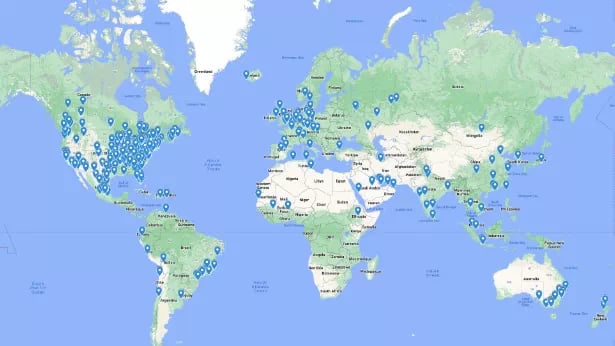 Since 1975, PROCECO has supplied thousands of systems in more than 50 countries worldwide to our leading partners in the aerospace, automotive, rail & transit, heavy machinery, and general manufacturing industries.

PROCECO machines are fully customizable, automated, and offer multi-stage processes. We design and integrate systems to meet virtually any cleaning process, from lean manufacturing cells to large-scale production lines. An ISO certified company since 1995, PROCECO is a customer-focused company offering state-of-the-art engineering and 24/7 customer support for all our products to ensure they stay in service for many years to come.
OUR CORE VALUES

Teamwork

Integrity

Accountability

Excellence

Customer Focus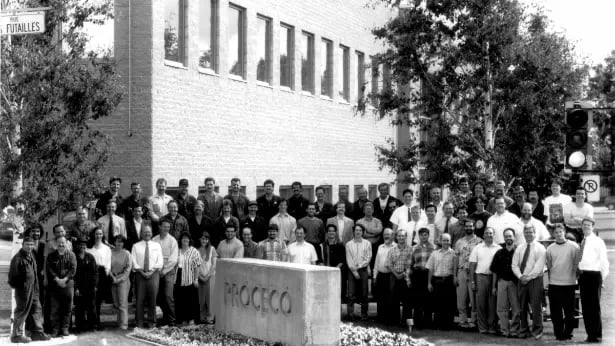 Since 1975, PROCECO has installed more than 5,000 systems worldwide, each of which is engineered to meet the performance requirements of the most demanding industrial applications and environments.

ISO certified since 1995, PROCECO's Montreal location recently expanded to over 65,000 square feet of state-of-the-art manufacturing and test facilities. More than 100 highly skilled and experienced employees call PROCECO their business home and are committed to setting the standard in quality and workmanship in North America.

After a successful trajectory from inception to its current market leadership role, PROCECO has continued to develop innovative solutions and has emerged as a game-changing competitor in a historically mature market.
1975

PROCECO is incorporated as PROCECO Industrial Machinery Ltd.

1981

Patent is filed for turntable spray cabinet parts washers, later named the TYPHOON®-HD

1983

Patent is filed for turntable spray cabinet parts washers, later named the TYPHOON®-HD

1990

Dramatic growth spurred by 15 years in U.S and international markets. Construction of new 48,000 square foot manufacturing and test facility in Montreal.

1993

Diversification leads to recognition as a leading supplier in North and South American, European and Asian markets. Major accounts supported by PROCECO now include the automotive, aerospace, rail and transit industries.

1994

PROCECO engineers and installs a cleaning system to clean the solid rocket booster for NASA space shuttles as part of the preparation process for space missions. Solid rocket boosters provide 80% of the shuttle's thrust at liftoff and during the first stage ascent.

1995

ISO 9001 certification

1996

PROCECO implements a dramatic initiative to upgrade its operations, evolving from standardized parts washers to integrated cleaning systems, thus extending upstream and downstream of cleaning, to include processes such as surface treatment, testing, marking, and gauging.

1997

PROCECO engineers and manufactures its largest-ever machine for a major American aircraft manufacturer; the multi-stage system is designed for cleaning, chemical treatment, application of paint, and paint curing for aircraft metal sheet components. The system measures 300 feet in length – about the size of a football field.

1998

Product development initiatives are undertaken for lean manufacturing, liquid abrasive cleaning, and high-pressure water jet deburring.

1999

PROCECO forms strategic alliance with key players in the CNC robotics fields.

2001

PROCECO forms strategic alliances for ambient temperature cleaning chemistry, ultrafiltration, and reverse osmosis technologies. Additional U.S. sales and service offices opened in Michigan and Ohio.

2002

PROCECO is recognize as a global company serving automotive, aerospace, rail and transit, heavy machinery, and general industrial markets worldwide.

2007

The PROCECO Accu-Jet® is a CNC-controlled, high-pressure water jet deburring machine tool designed to flush and deburr precision metal components at high speed. ISO 9001:2000 Certification.

2009

Acquisition of MP Tech blasting technologies, previously owned by Metal Processing Technologies Inc. of Cambridge, Ontario, enabling PROCECO to expand its parts cleaning and surface treatment solutions to include an innovative slurry blast process.

2010

PROCECO launches Éco-Smart®, a new product to treat and recycle up to 98% of wastewater from parts cleaning, liquid penetrant, and surface treatment processes. PROCECO achieves ISO 9001:2008 certification.

2014

Expansion of Montréal manufacturing and test facility almost doubles PROCECO's manufacturing capacity to meet the growing demand for its integrated parts washers and surface treatment systems.

2015

PROCECO celebrated its 40th anniversary. From its beginning in Montreal, the company has grown to be the North American leader in aqueous parts cleaning equipment and surface treatment systems. Our expertise and innovative solutions are recognized in the automotive, aerospace, heavy machinery, rail, and general manufacturing markets.

2019

PROCECO enters the space travel market segment with specialized cleaning equipment for a launch service provider and space exploration company.

2020

The first Battery Tray cleaning system for the Electric Vehicle industry has been delivered by the company, which has now opened the door to more sales in the automotive Tier 1 sector.
ALIGNING YOUR CLEANLINESS REQUIREMENTS WITH THE RIGHT PARTS CLEANING EQUIPMENT
At PROCECO, we work closely with you to fully understand your needs and then develop a solution that effectively addresses them, while minimizing your expenses and cutting down on lead times.

MEET YOUR CLEANLINESS REQUIREMENTS
Whether you are an original equipment manufacturer or provide maintenance, repair, and overhaul services, we have a proven process to help you meet your requirements.
Here's how we approach new client engagements:
Evaluate your parts cleaning needs
Discuss your process objectives
Determine your cleaning and drying criteria
Design and develop a cost-effective solution
Manufacture, install, and commission your system

ALIGN OUR TECHNOLOGY WITH YOUR NEEDS
To help you achieve consistent cleaning results, we offer a wide selection of aqueous, single- or multi-stage parts washer models that integrate a variety of technologies.
These methods include:
Precision Cleaning
Spray-Immersion
Ultrasonic Cleaning
High-Impact Blow-Off and Convection Drying
Power Flushing
High-Pressure Deburring
Slurry Blasting
Wastewater Treatment

MAINTAIN YOUR PRODUCTION RATE EFFICIENCY
We're focused on minimizing downtime and rejected parts, so you never have to worry about shipping your products late again. Our systems minimize parts travel between operations, while eliminating intermediate storage and reducing the number of parts in process.
Automation and Robotics
Integration With Your Up/Downstream Processes
Turnkey Installation

TACKLE CHALLENGES IN A COST-EFFECTIVE MANNER
Decades of experience in a variety of industries, including automotive, aerospace, rail & transit, and general manufacturing have given us opportunities to repurpose our expertise to innovate cross-functional solutions to new challenges.
Process Know-How
Sound Engineering
Reliable Componentry
Modular Design Approach
Process Lab Testing
Quality Workmanship
Competitive Cost of Ownership