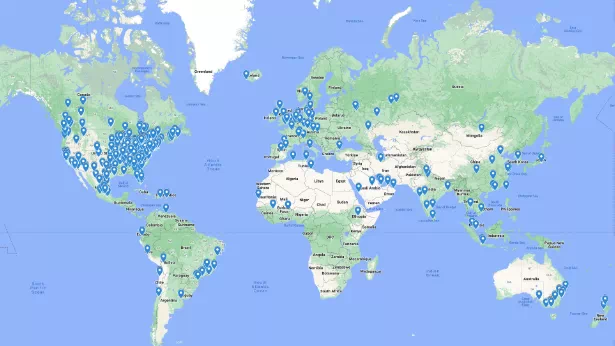 Since 1975, PROCECO has supplied thousands of systems in more than 50 countries worldwide to our leading partners in the aerospace, automotive, rail & transit, heavy machinery, and general manufacturing industries.
PROCECO machines are fully customizable, automated, and offer multi-stage processes. We design and integrate systems to meet virtually any cleaning process, from lean manufacturing cells to large-scale production lines. An ISO certified company since 1995, PROCECO is a customer-focused company offering state-of-the-art engineering and 24/7 customer support for all our products to ensure they stay in service for many years to come.
Our History
Since 1975, PROCECO has installed more than 5,000 systems worldwide, each of which is engineered to meet the performance requirements of the most demanding industrial applications and environments.
ISO certified since 1995, PROCECO's Montreal location recently expanded to over 65,000 square feet of state-of-the-art manufacturing and test facilities. More than 100 highly skilled and experienced employees call PROCECO their business home and are committed to setting the standard in quality and workmanship in North America.
After a successful trajectory from inception to its current market leadership role, PROCECO has continued to develop innovative solutions and has emerged as a game-changing competitor in a historically mature market.
The PROCECO Commitment
MEET YOUR CLEANLINESS REQUIREMENTS
Whether you are an original equipment manufacturer or provide maintenance, repair, and overhaul services, we have a proven process to help you meet your requirements.
Here's how we approach new client engagements:
Evaluate your parts cleaning needs
Discuss your process objectives
Determine your cleaning and drying criteria
Design and develop a cost-effective solution
Manufacture, install, and commission your system
ALIGN OUR TECHNOLOGY WITH YOUR NEEDS
To help you achieve consistent cleaning results, we offer a wide selection of aqueous, single- or multi-stage parts washer models that integrate a variety of technologies.
These methods include:
Precision Cleaning
Spray-Immersion
Ultrasonic Cleaning
High-Impact Blow-Off and Convection Drying
Power Flushing
High-Pressure Deburring
Slurry Blasting
Wastewater Treatment
MAINTAIN YOUR PRODUCTION RATE EFFICIENCY
We're focused on minimizing downtime and rejected parts, so you never have to worry about shipping your products late again. Our systems minimize parts travel between operations, while eliminating intermediate storage and reducing the number of parts in process.
Automation and Robotics
Integration With Your Up/Downstream Processes
Turnkey Installation
TACKLE ANY CHALLENGES IN A COST-EFFECTIVE MANNER
Decades of experience in a variety of industries, including automotive, aerospace, rail & transit, and general manufacturing have given us opportunities to repurpose our expertise to innovate cross-functional solutions to new challenges.
Process Know-How
Sound Engineering
Reliable Componentry
Modular Design Approach
Process Lab Testing
Quality Workmanship
Competitive Cost of Ownership